High Quality Grain & Stockfood
Golden Grain Ltd
We supply grain and stock food for a variety of animals ranging from Alpacas, Rabbits, Chickens, Dairy, Horse and even Dogs.
We are a family owned & operated business based in Edgecumbe, New Zealand.
Our mission statement is to provide a high quality stock feed at a reasonable price with great service!
High Quality Grain & Stockfood
Muscle n Shine
MUSC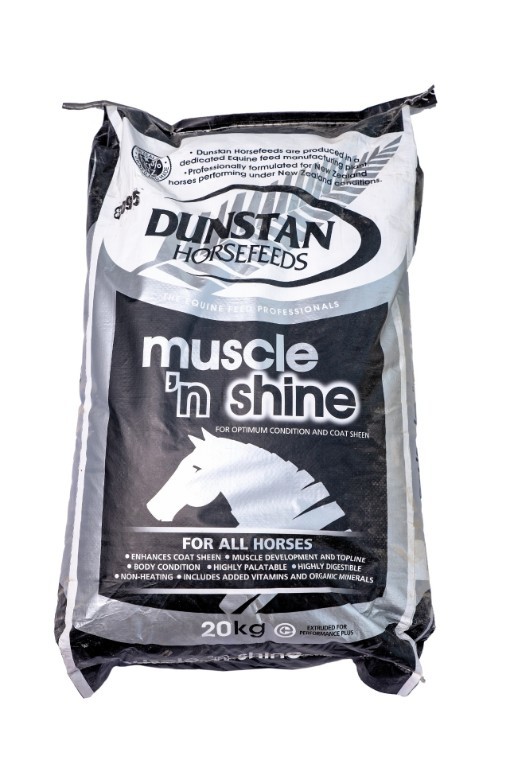 MUSCLE N SHINE
Dunstan Muscle 'n Shine
is a calorie-dense supplement with a high fat and high protein specification, ideal to assist in muscle development and coat quality for all horses. It will be of particular benefit to horses being prepared for sale or those struggling to maintain body condition.
Dunstan Muscle 'n Shine
is an extruded formulation of Soyabeans and Linseed, containing a comprehensive vitamin and mineral supplement, utilising organic minerals. The amino acids contained within the protein of soya and linseed assists with muscle development, with the Omega 6 and Omega 3 fatty acids enhancing skin and coat quality. Horses find
Dunstan Muscle 'n Shine
highly palatable, making it a welcome addition to the diet and the ideal way to increase the calorie density of the ration when weight gain is required.
Ingredients
Whole Linseed, Full Fat Soyabean Meal, Maize, Mineral & Vitamins, Vegetable Oil.
Calculated Specifications (per kg as fed)
DE Mj/Kg 16.5
| | | |
| --- | --- | --- |
| Crude Protein | 20.0% | Minimum |
| Fibre | 6.0% | Maximum |
| Fat | 15.0% | Maximum |
| Salt | 1.0% | Maximum |
Feeding Recommendations
Add Dunstan Muscle 'n Shine to your existing ration at 250grams to 1kg daily.
Available in 20 kg polypropylene sacks.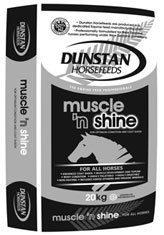 We are able to source and supply other products upon request
Subscribe to Our Newsletter
Keep Up To Date With All Our Special Offers and Latest News